The simplest way to track your Google search rankings
If you want a fast, simple and easy way to monitor your search rankings and search traffic, read this quick and simple guide.
So what's the simplest way to track your google search rankings?
Google Search Console.
What is Google Search Console?
Google search console, formerly known as Google Webmaster, is Google's own free web-based software that you can use to track your websites search rankings. Search Console is packed with tools that help you optimize your site, but it's search analytics are one of the most important tools you can get yourself familiar with, as its the simplest  way to track your Google search rankings, which is what we are covering in this guide.
Why should you use Google Search Console?
Its free
It provides data directly from google searches
It's Google's own software
It's easy to set up and use
Google doesn't start collecting this data for you until you make an account
What's in this guide:
Click the links to jump to that section
---
1. How to setup Google Search Console for your website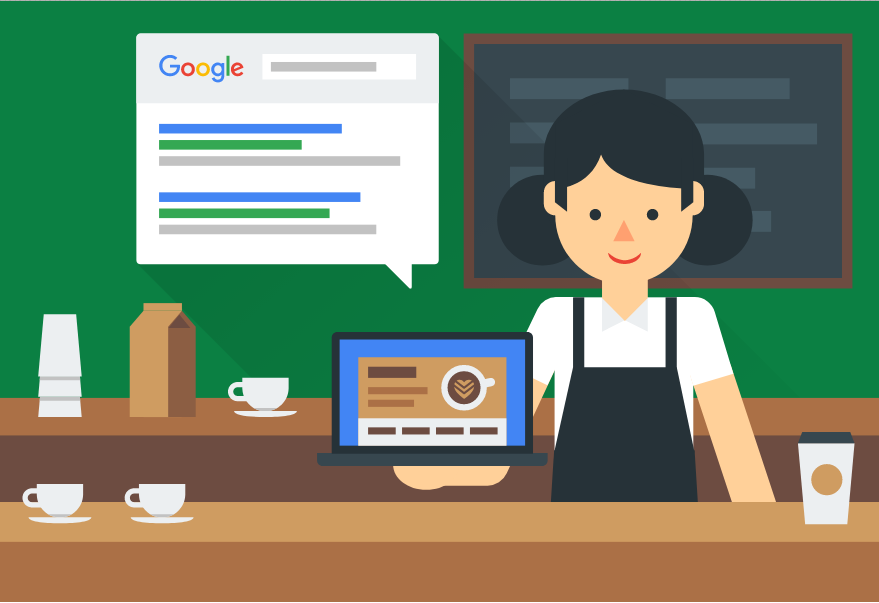 Setting up Google Search Console for your website is super easy, to get started just sign in to Google search console here: https://www.google.com/webmasters/
If you don't have a Google account, you will need to create an account first.
When you first sign in, there will likely be no websites attached to your account, simply click "Add a Property".

Next up, enter the domain of your website, for example "https://adsimple.ca"
Follow the rest of the steps on the setup wizard

You will need to upload a file to the root directory to confirm that you own the website. If you have no idea what that means you can get your website manager to do it, or contact us for help.
For the purpose of staying on topic, we're going to assume you know how to do this or know someone who can do this for you.
---
2. How to track your Google search rankings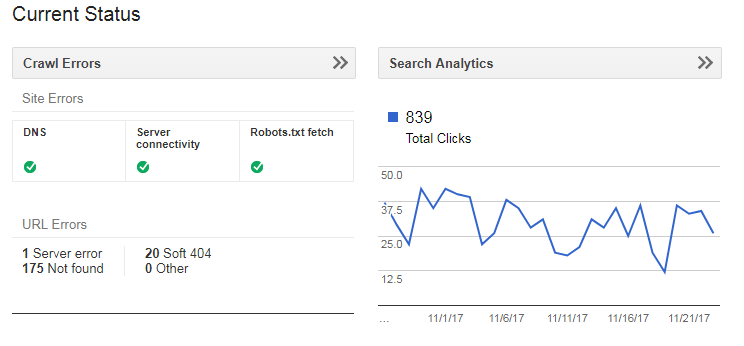 Once you have your Search Console account setup and linked to your website, you'll be able to manage your property. Simply click on the link to your site property to manage it. 

Once you click on your site your screen should look something like this:
Don't worry if your account doesn't have any data, Google only starts collecting the data once you create an account – which is another reason why you should get this set up right away.
Click on Search traffic, and then Search Analytics. You should now see something like this: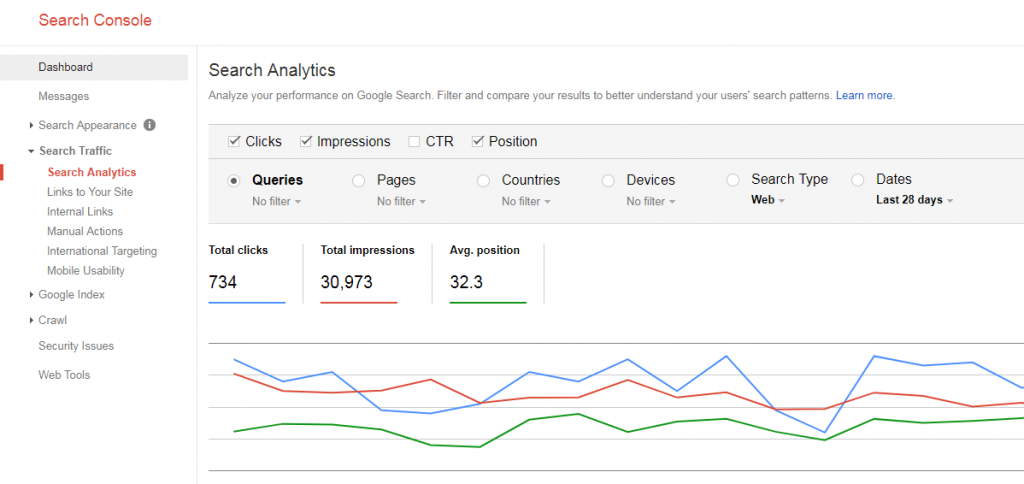 Be sure to check Position as one of your metrics. I also like to check Clicks and Impressions, you'll see why in a second.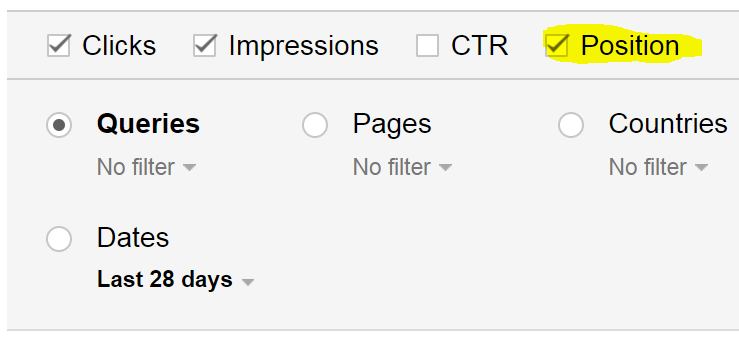 Once you check the metrics you want to look at, Search Console will provide you with the data to match your filers. In this example google is going to provide me with the average position that these search terms have held in the last 28 days.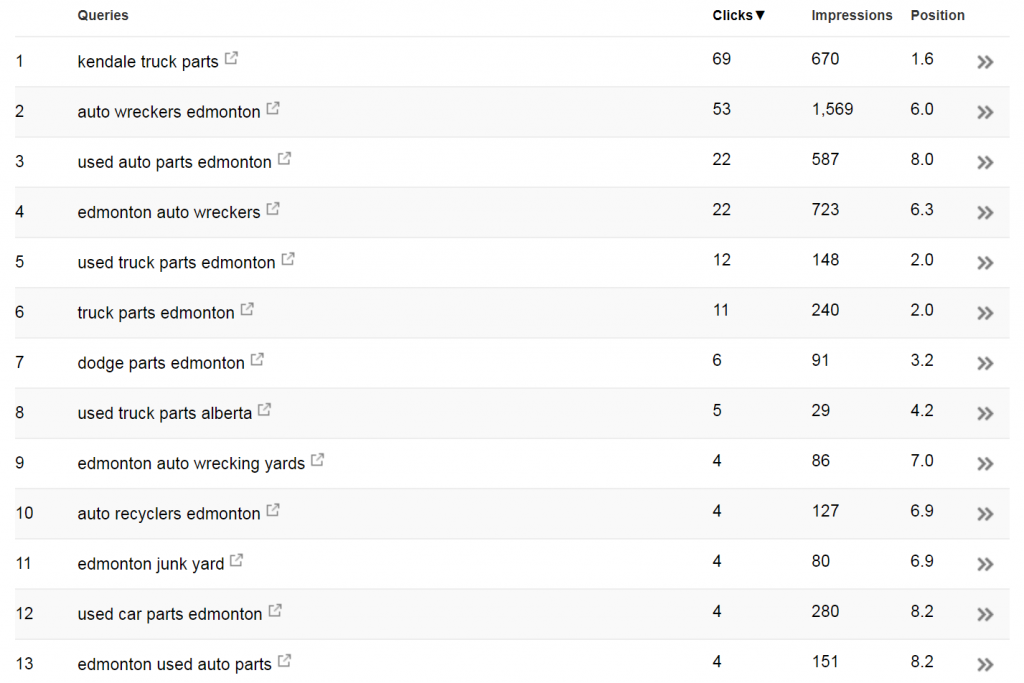 What does it all mean?
Position: Search Console uses an average position because search results now vary depending on the user, especially for local searches. For example, if you searched "Auto Wreckers Edmonton"  and you are currently in Edmonton, there is a high probability you will be shown the Auto Wreckers nearest to you.
If your position says 1.6, it means over the last 28 days, you ranked #1.6 on that search term. A #1 would mean you are the top result for that search.
Impressions: On search console, Impressions shows you how many times your content came up for various searches. This is useful to show you which terms have the biggest potential.
Clicks: This is how many users clicked on your search result.
If you keep track of all of these, you will be able to see exactly how much traffic you gain by increasing your rankings on searches, which is what is covered in the next step.
You can click on an individual search term to see your analytics day by day, or you can click the little box with an arrow in it to see everything that comes up on that Google search. All this data is extremely useful, but it doesn't help you much if you don't keep track of it, as search console only lets you see about 90 days worth of data at a time.
---
3. How to monitor your search rankings over time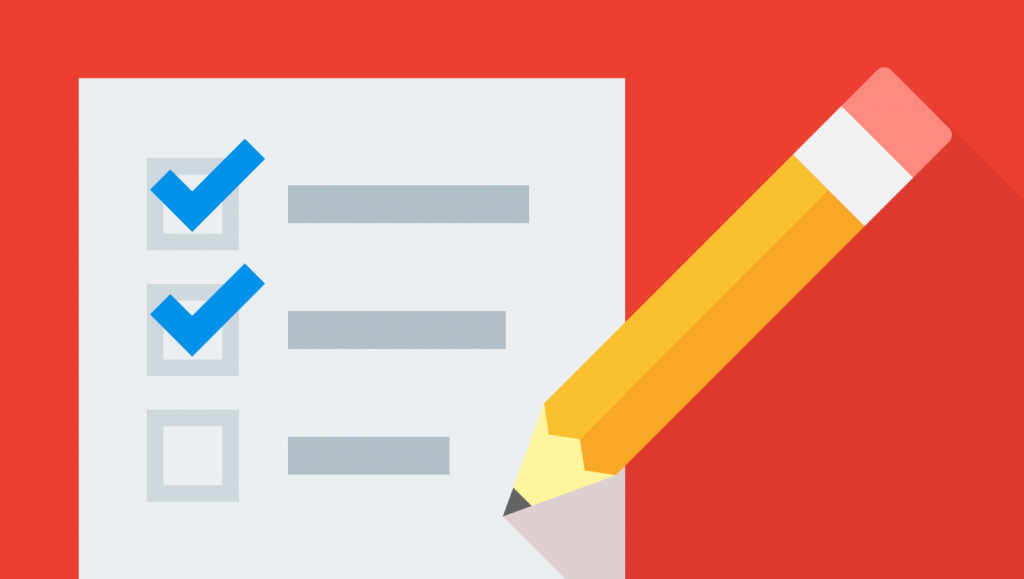 The easiest way to monitor your search rankings is to download your data onto a spreadsheet. You can do that by scrolling to the bottom of the page and clicking download.
You will now have a nice spreadsheet that you can keep forever. Name it something like "Search Rankings tracker". We recommend you download your data every month and update your spreadsheet so you can get month-by-month analytics. If you have someone doing SEO for you, this is the best way to make sure what they are doing is working.
You can also use our handy dandy Search Console Tracker template, a free in-depth tool to track your search console data for an entire year at a time.
12 months of tracking
In-depth month-by-month analytics on 50 keywords
Full month-by-month analytics on 500 keywords
100% free
Google Sheets Template